Please send me your own reviews of Michael Vaughan's Cricket Manager. The CricketGames.com review is after all the links to user, online and magazine reviews.
User Reviews
Online Reviews
Review by TotalGames.net.
Magazine Reviews
If anyone has the details of reviews of MVCM in a magazine please send me details.
CricketGames.com Review
For the last few years the only cricket management game available has been the International Cricket Captain series from Empire. Now at last there is a new competitor on the block in the shape of Michael Vaughan's Championship Cricket Manager (from now on shortened to MVCCM) but how does it match up. MVCCM is the results of two years development by dedicated cricket fan Oli Norwell. His aim to write the cricket equivalent of the much loved soccer management game Championship Manager. This has always been my aim as well with Cricket Manager but Oli has beaten me to the punch.
The game is supplied in the now standard DVD style case containing the CD-ROM and a small manual. Booting up the CD the setup program took nearly a minute to appear. This may be just my DVD drive but all other games work fine. In any case be patient and it will appear. In these days of GB's of hard disk being swallowed up MVCCM takes less than 30Mb and only requires a P166.
Starting the game you have two options - Career Mode and Single Game. Selecting Career Mode you can choose your team and you can select from over 120 first class teams from all over the world. As you highlight each team its squad is shown with player batting and bowling ratings plus three team ratings Reputation, Wealth and Support. These gives you an idea of the abilities and aspirations of the club. The career mode actually starts from the start of the 2001/2002 season i.e. after the 2001 English season. Unfortunately this means post 2001 English squad changes are not reflected. Also the divisions are still set up for 2001. Personally I would have preferred to start from the start of the 2001 season as it still fresh in the mind which would also have negated both these problems. Once you select a team you can add up to 7 other additional players. For my first game I decided to select New South Wales.
The main menu in the game has the following options:
| | |
| --- | --- |
| | Squad - View current/career averages/form, finances etc. |
| | Leagues - View current tables/cups for the current domestic season. |
| | Calendar - View upcoming fixtures. You can filter on/off all countries domestic games plus Internationals. |
| | News - latest events happening. |
| | Game Status - Score for all managers plus details of trophies won during career. |
| | World of Cricket - View details of all other countries domestic season plus any current tours and the World Cup. |
| | Other Teams - View the same details as Squad for any team in the game. |
| | Player Search - View details of players. Numerous filters available for batting position. bowler type, fielding and contract status. |
| | Ratings - View the World Test Championships. |
To advance the game you press Continue which advances one day. Any news that happens is displayed along with summaries of any matches from your domestic season or Internationals.
When it comes to your turn to play a match you are first shown the current conditions for Weather, Hardness of Pitch and Grass. The toss is then called and only after the toss do you need to select your team. You can select your own 11 or get the computer to select the 'Best XI'. Selecting Assistant will make the computer play the match for you. The main in-game screens shows the current scorecard plus details of batting and bowling aggression. Clicking BOWL will show various mini icons that show the outcome of each delivery. Change of bowlers, batting milestones, partnership records, etc. are displayed in a dialog box. When batting you control how aggressive each batsman plays. When bowling you can set the aggression of the bowler and the length you want him to pitch the ball. You can also select fielding aggression from 6 different pre-set fields although no allowance seemed to be taken for fielding restrictions in the first 15 overs of a one day match. You can select 3 speeds for playing the match or at any time get the computer to take over and finish the match for you.
After playing a couple of matches all the way through I let the computer control the remaining matches. There is obviously a penalty for using the computer as I lost quite a few matches finishing the season third in the Sheffield Shield and fifth in the One Day league. Matches played 'outside' your domestic season are shown on a screen with a progress bar and a scrolling window displaying all the results. Early in my second season I applied for the England job and managed to get a 3-2 victory against the mighty Aussies in the One Day tournament and even win the World Cup against Pakistan in South Africa. I did notice a couple of potentially odd results whilst in charge of England. Zimbabwe chased and got 480 to win a test match and in the World Cup Nambia managed to reach the semi-finals before losing to Pakistan.
MVCCM is not as pretty to look at as ICC and for some people the lack of game highlights and fewer options whilst playing a match may be disappointing. Personally I don't find it a problem as I usually play ICC with graphics turned off. MVCCM has much faster screen updates and computer controlled matches. You can certainly play a complete season much faster in MVCCM if desired.
Player transfers are included in this game. You can approach any player in the game (although sometimes their club will refuse permission) and try and persuade them to join you. Computer controlled teams also make requests to approach your players. Due to this transfer system the concept of a foreign player is not used although it makes sense to buy foreign players that are unlikely be called up for international duty for the whole of your domestic season.
MVCCM does not come with an editor but all the important data like Players, Grounds, Squads and Fixtures are stored in text based files. Whilst the exact format of the files is not known a dedicated person should be able to work them put and then create an editor. You could even change the injuries descriptions as they are stored in a text file. All backgrounds are standard PCX files so could be replaced with alternatives ones if desired.
This review was written after just a few hours playing MVCCM. I hope to write a further review once I have played the game for longer (which I certainly will be doing) and can see the long term effects of playing the game.
There are some features I thought would have been included in the game that are missing like coaching of players. It is probably the case they were partially implemented but had to be removed so the game could be released. Midas I know are already seriously considering a v2 so many other features could be included. For a first attempt though by a young programmer MVCCM is a very creditable effort.
Pros
| | |
| --- | --- |
| | Match simulation engine is very fast and mainly produces realistic scorecards. |
| | Can play as any first class team. |
| | Simulates entire cricketing calendar including World Cup every 4 years. |
| | Includes transfer market. |
Cons
| | |
| --- | --- |
| | Can't play in a Window only Full screen. If you switch to another application and return to the game the screen is corrupted. |
| | No records like Highest/Lowest innings score, etc. |
| | Some minor bugs exist. |
| | Promotion/Relegation and squad changes for English 2001 season not included. 2002 season therefore uses 2001 details. |
Rating
I don't normally score all my reviews but a lot of people are probably interested in what mark I would give Michael Vaughan's Championship Cricket Manager.
Score 82%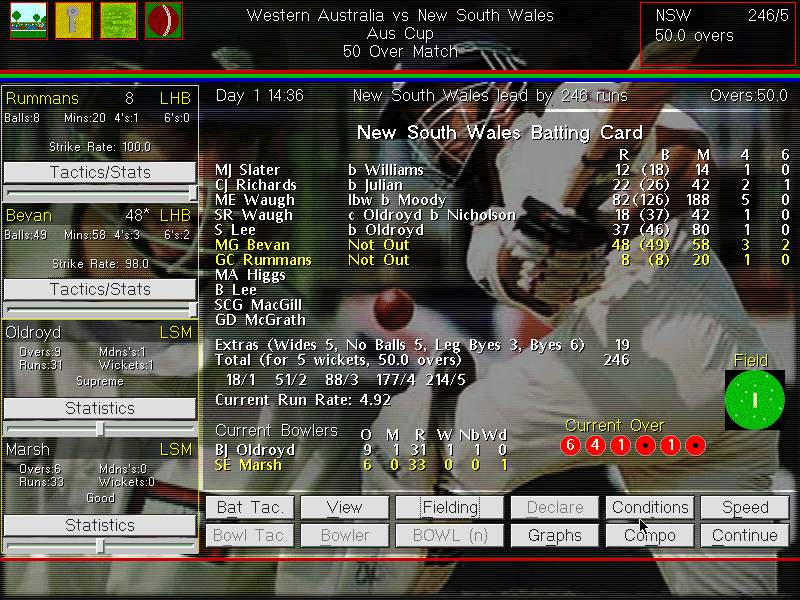 Thanks to Chris Viggers of Midas Interactive for providing a review copy of Michael Vaughan's Championship Cricket Manager.