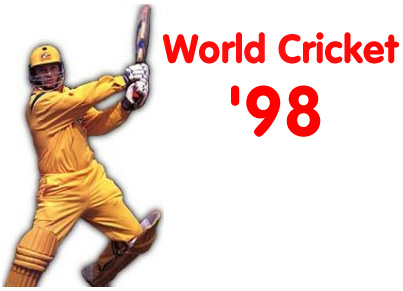 World Cricket previously known as World Cricket '98 by Exile Software was originally intended for release on 1st April 1998 but has been put on hold at the moment. See Exile Software's message in the feedback section.
Exile say that "World Cricket '98 is a statistical based cricket simulator. Much like International Test Cricket (not sure if they are referring here to my game International Test Cricket or test cricket in general), you can play any type of match, in any condition, on any ground. With the greatest statistical modal ever created for a cricket game, this simulation is sure to go down a hit with cricket fans."
The planned features for this game taken from Exile's old web pages are
All International Teams

24 Player Squads (with real names!)

Career/Season Mode

Modes Include

| | |
| --- | --- |
| | Career |
| | Season |
| | Test Match |
| | One Day Match |
| | Test Series |
| | World Series |
| | World Cup |
| | Super 8's |
| | Super 8's Tournament |
| | Exhibition Game |
| | Sheffield Shield |
| | Mercantile Mutual Cup |
| | Triangular Tournament |
| | Quadrangular Tournament |
| | A few we are keeping under raps |

Training Sessions

Run Charts (Worm and Manhattan)

Player Aggression

10 Player Attributes (including intangibles like Courage and Determination)

THREE Commentators, telling you EVERY detail of what is going on.

Crowd riots/problems

Weather report

Pitch report, wind, weather, UV Factor, Players Comfort
Previews
Downloads
Feedback received (my comments are in italics)
Send feedback about World Cricket.
Yaju Arya said on 29 April 2000
Perhaps Exile should apply in its Jobs Page for Programmers. The Game would have been great if ....only the programmers. But Hope should never be lost. Perhaps what Exile can do is to release the Game in its current stage or to make it open source in order to get support from the people.

Jason Forte said on 30 December 1998
Yes, I am the one and the very same person who is doing World Cricket '98 (now renamed to World Cricket for obvious reasons). Basically the game *was* going along ok (a few of the functions were being programmed) until I began to work more solidly on General Manager, my basketball manager. World Cricket might possibly be started again (although, since you are making Cricket Manager, is there any reason for me to bother? Maybe we could just work together? I have PLENTY of ideas that you could put in cricket manager..trust me P), but at this stage General Manager comes first. Basically Exile Software consisted of 8 people but now consists of 1 (me) as most of our programmers have gone on to bigger things (2 have joined Blizzard; 1 EA Sports; 1 Firaxis and a few have gone on to start their own company) so I'm left on my own. When I start WC again, I'll let you know the website address, the screenshots etc. By the way, thanks for putting up that page on cricketgames.com. Not sure if it's entirely necessary and it *does* rip my stupid game deadlines (April 1st) to bits, but I suppose I deserve it)
Jason Forte President (and only programmer) of Exile Software
21 November 1998
I think this game is likely to be a hoax or an "April Fools Joke" as you may like to call it. I have never heard of Exile Software before and considering the state of their website (as it has been mentioned), I would recommend that serious gamers pay no attention to it.
Hints
Cheats
Links
World Cricket 98 homepage.
Screenshots