County Cricket Manager 2002 is a Shareware game currently under development by Phil Carty.
Phil's notes
County Cricket Manager aims to emulate the success of past games such as International Cricket Captain and strive towards the standard set by games such as Championship Manager. The list of features below are the confirmed in terms of inclusion in the release of the game this year.
Database
Player database of over 600 players from all the major test playing nations, each with personal statistics and characteristics. New young talent from across the globe is also generated at the start of each season.
Interface
A smooth and easy to use navigation with simple pop-up windows and confirmation enables you to easily manage your county.
Interaction
Ability to interact with players in terms of training schedules, contract negotiations, trade deals as well as interacting with the media after games and commenting on events.
Match Day
Talk to your bowlers, give them morale boosts, select your teams tactics and consult your captain. After all, you are the manager, not the players themselves.
Online Gaming
Log onto our game server from within the game's interface, and talk to fellow players and initiate games. All results would be recorded to the server, updating the ladder as well as full match reports being available for people here at the site to view. Keep a profile of your team, arrange competitions and much more.
Previews
Downloads
Feedback received (my comments are in italics)
Send feedback about County Cricket Manager 2002.
Hints
Cheats
Links
County Cricket Manager 2002 home page.
Screenshots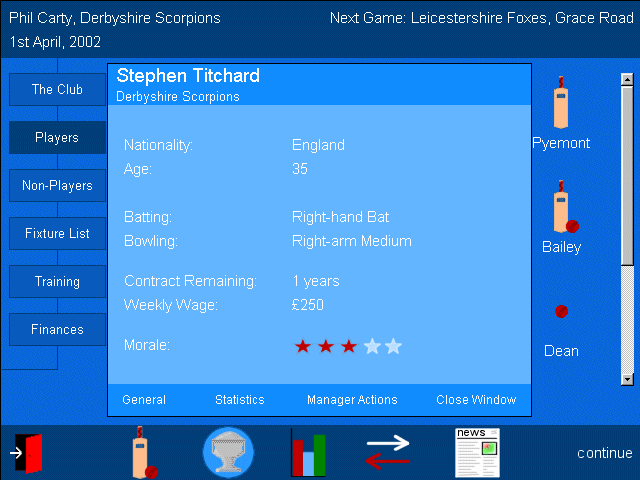 Additional screenshots can be found on the County Cricket Manager 2002 home page.