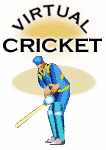 Virtual Cricket by MagicCricket is a free on-line game requiring Shockware 7.02 to play. In it you must try and score as many runs as possible by using your mouse to control the bat and attempt to hit the ball. The view is 3D shown from behind the umpire. You can move from left to right and back or forward. You can see the line the bowler is bowling and have to adjust quickly enough and time the shot to score runs. More difficult than MagicCricket's Master Blaster.
Reviews
Downloads
Visit the Virtual Cricket home page to play the game.
Feedback
Send feedback about Virtual Cricket.
Hints
Cheats
Links
Magic Cricket Cricket Gaming page
Screenshots