Java Cricket is an online Java simulation of one day cricket by Ganesh. To play Java Cricket you need a Java enabled browser. It will work with Netscape 4.x and Internet Explorer 4.0 but I could not get it to work with Internet Explorer 3.02.
When you first initialise Java Cricket you are presented with the Team Selection screen. You can either build your own teams from the players available or select a team already defined. Once you have selected the teams you can start the game.
The main game screen shows a scorecard for the team batting with buttons for the bowlers. You play the game by clicking on the button of the next bowler. There are no tactics available. The current run rate or required target is also shown. You can select from the menu to change the batting order although this must be done before the fall of the wicket.
Java Cricket has some problems with fonts (the screenshots have not been reduced in size but are actual size) but that could be down to how Netscape handles Java. Once the game has finished there is no way of saving a copy of the scorecard. The sound effects used in the game have to be downloaded the first time they are required and this can pause the game for up to 30 seconds. Also the sound effects used are sound bites from Aliens, Star Wars and Queen songs We are the Champions and Another one bites the dust. These are therefore copyrighted sound files.
Java Cricket is interesting the first time you play it but there is not enough to keep you spending time online playing it.
Update 09/02/2003
Teams have been updated for the 2003 World Cup although the game only includes the 10 test playing countries. Kenya and other minnows are missing.
Reviews
Downloads
Visit the Java Cricket home page to play the game.
Feedback
Send feedback about Java Cricket.
Ganesh (author of Java Cricket) said on 14 January 2000
I am the author of the Java cricket simulator online game. Just to let you know that I am working on updates to the game,which should be up on the site within a month.
Updates include updating the teams, scoring averages, addition of weather/pitch parameters, better screen displays etc.
Hints
Cheats
Links
Screenshots
Team Selection screen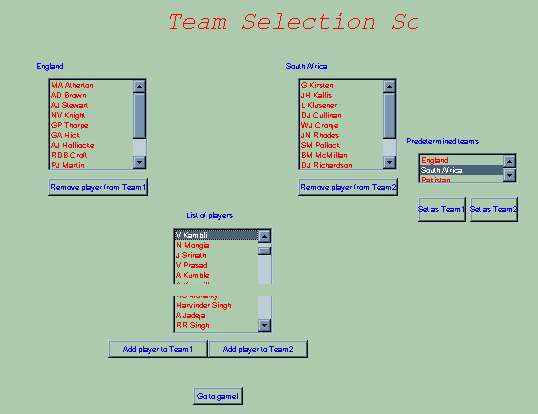 Main game screen