International Cricket Captain 2002 is an update to the 2001 release. It is being developed for PC and PSX by the same team as 2001 and was released on 24 May 2002.
Buy International Cricket Captain 2002 (PC) for £4.99 from SportingGifts.com Ltd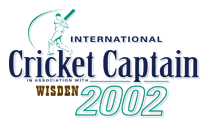 Saturday

,

31st

December

200

5
SportingGifts.com have reduced the price of ICC 2002 to just £4.99. Excellent time to buy it if you want to try out the on-line game.
Friday

,

30th

December

200

5
Updated On-line page - made a small mistake in the instructions for connecting to the on-line server. Port should be 2263 not 2363. Please read the On-line page for full corrected details.
Tuesday

,

2

7th December

200

5
Updated On-line page - added details of new 2002 server.
Monday, 26th January 2004
** Important News **
The server used for playing on-line will close from 31st January 2004. The number of people using the server has reduced to the extent it is no longer justifies the monthly dedicated server costs. If you select Network Game after that date it will always come up with the connection failure box. I am hoping that Empire will allow the relevant server files to be distributed to anyone who has a dedicated server (ADSL/Cable connection not suitable) and wishes to resurrect the server.
Added Editing page - has details on how a potential editor could be created. Still needs the format of the database to be worked out but the encryption added for the on-line side can be removed.
Added Reviews page - added link to Review by The Sun.
International Cricket Captain 2002 was released on Friday, 24 May 2002 in the UK and costs £19.99. It features Graham Thorpe on the cover this year.
Unfortunately some copies of the game have part of the network code missing due to badly aligned labels. A valid network code has 12 characters and takes the form ABCD-1346-EFGH. If you are unfortunate to have some of the code missing email me with as much of the code as you have and I will let you know the complete code.
Added On-line page - added details of changes for 2002 server.
Added Details page.
Added Feedback page.